When you're ready to checkout, you can add your promo code to your Order Summary.  You'll see this option once you click "Checkout" from your Cart.  Once you're on the Checkout page (where you will enter your credit card and shipping information) there will be a section on the right called "Order Summary."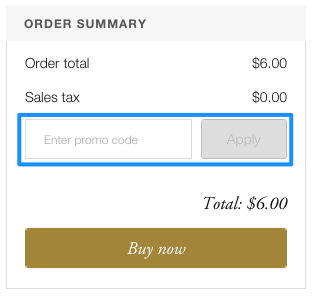 Within the order summary, there's a field for promo codes.  Type your code into the field and click "apply" to have the discount reflected in your order total.  
If you have more than one code saved in your account, instead of a field you will see a dropdown menu that says "Choose a promo code."  You can open the menu and use any of the saved codes in your account, if they are applicable to your order they will be reflected in the order summary.
Please note that you cannot combine or stack promo codes, and they can only be used one at a time.