Yes, you can upload a .csv list of contacts to your event for sending Cards. Please download our .csv spreadsheet template here to get started. This template can be opened and edited using Microsoft Excel.
Please note that non-English characters and symbols cannot be used in contact names. The following is a list of supported characters: English letters A-Z & numbers, underscore ( _ ), space, period (.), ampersand (&), apostrophe ( ' ), hyphen ( - ), comma ( , ).
Formatting your .csv spreadsheet
You can start a new list using our template. Please do not change the template column headers, otherwise the spreadsheet will not upload correctly. You may type or paste your contacts into the template, however. Please note that at a minimum the "Email" column needs to be completed for all entries.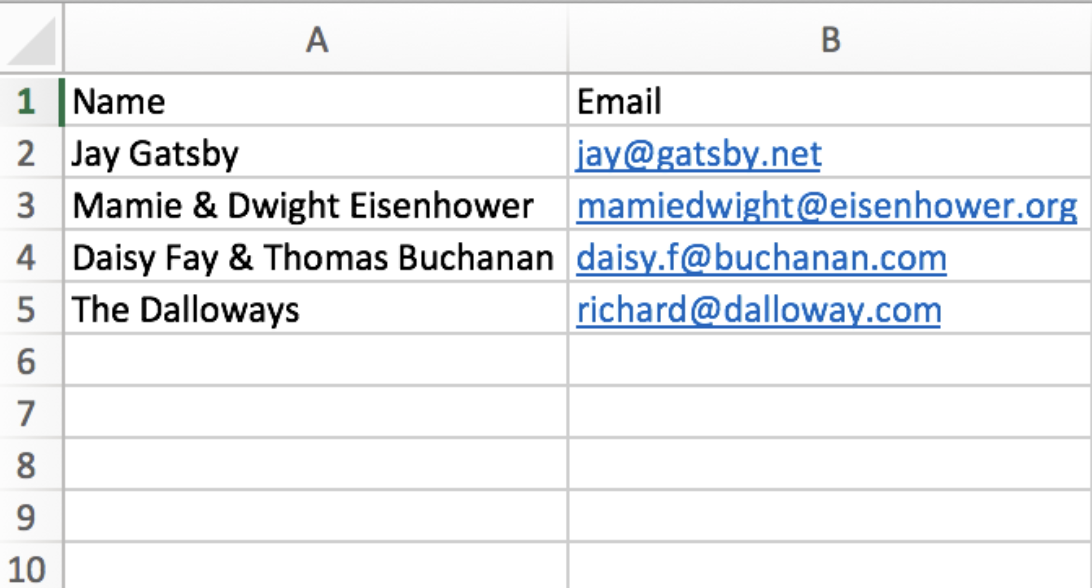 Re-formatting an existing .xls/.xlsx/Google spreadsheet to a .csv file
It's no problem to use an existing list as the starting place for your event. Please note you will need a "Name" column and an "Email" column set up exactly as shown above to mirror our template.
Once your .xls/.xlsx spreadsheet is complete, save your file as a .csv file by going to File > Save As... Then under File Format: go to Comma Separated Values (.csv) and then Save.
Please save your .csv files by following these steps, as simply re-typing or typing over a file's extension to change it (i.e. .xls/.xlsx to .csv) may cause upload issues.
Or, once your Google sheet is complete, save your file as a .csv file by going to File > Download As > Comma-separated values (.csv, current sheet).
Uploading your .csv spreadsheet
On your Add Guests delivery page, click on the "File Upload (.csv, .vcf)" link. On the Add Contacts / Upload a File window that appears, click on the "Upload File" button. Navigate to where you saved your .csv file to select it for uploading. Please note that only .csv files can be accepted for uploading.
The contacts will upload to your Add Guest delivery page automatically: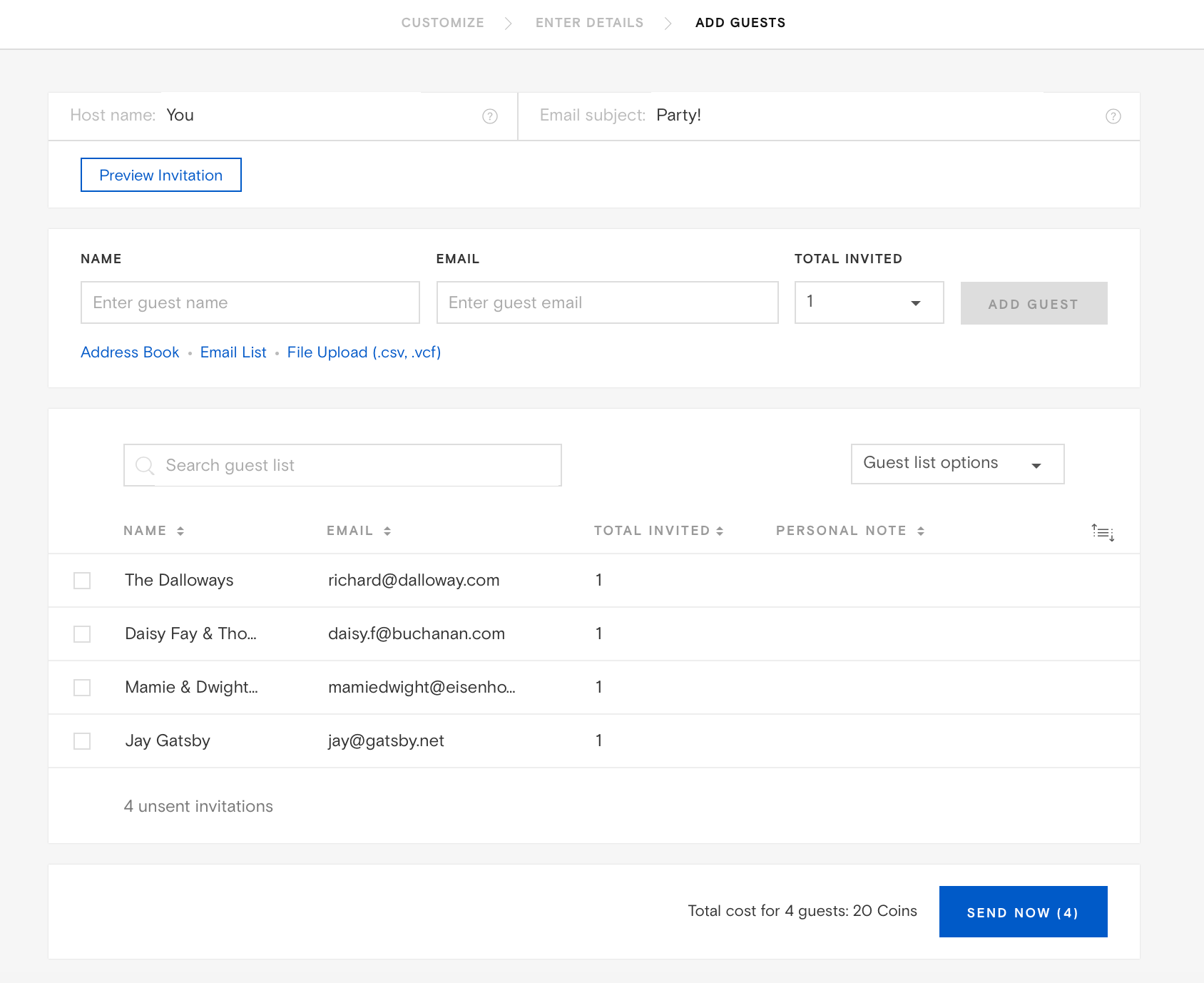 NOTE: Any duplicates or invalid contacts will result in upload errors and remain in the window until duplicates are deleted and/or invalid email addresses are corrected.
If you need further assistance, please send your spreadsheet file to us and we're happy to take a look!
Please note you currently cannot upload a .csv for Flyer sending, but you can review Flyer sending options from here.
See also: Can I copy and paste a list of emails into my Add Guests delivery page?