All Paperless Post designs come with sample text to provide an example for your own formatting.
For Cards, this text must be manually edited — just editing the details section below the card will not change the design text. The steps to make these changes depend on whether you are editing a V1 Card, V2 Card, or Flyer.
Am I designing a V1 Card, V2 Card, or Flyer?
Flyers have a different layout from cards — if the invitation is split into two distinct sections with editable text on the left and an animated image on the right, it is a Flyer.
If you are designing a Card, look for the V2 icon in the lower left corner of your page, as seen here. If you don't see V2, it's a V1 card!
V2 Card
If you try to proceed through the editing process without first editing your card's sample text, you will see the warning "Please edit the sample text on your card before proceeding."
It is easy to edit your card text so this warning no longer appears— just click or double-tap on a text box on the card to select it. This will open up an editing menu where you can edit or erase the sample text and type in your own text. On a desktop computer, the editing menu will appear on the left-hand side of your screen. You will also be able to adjust the font, formatting and color of the text.
After you've finished editing, be sure to click or tap the blue Save button in the upper right corner to save your changes.
Flyer
From your Flyer's Create/Edit page, click on any text element on the right side of the Flyer to open the media tools.
From the menu that opens, click on the existing text to open the text editing options. From here, you can use the menu options to remove the text box, type new text, change the animation, or change the colors: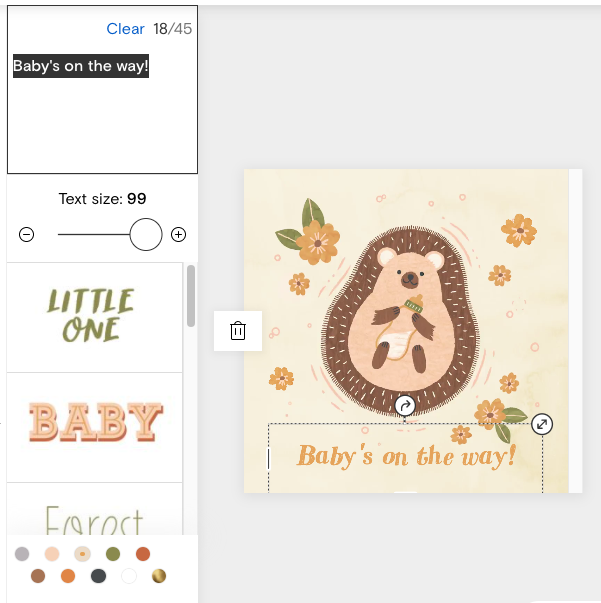 V1 Card
If you do not customize the sample text on your card, you will see this warning message: "Please go back and edit the sample text on your card before proceeding."
Once prompted with this warning message, you will need to click on the left black arrow (see below) to navigate back to your main Card to edit the text and update. If you have an insert card, you will need to edit the text on that as well.
After all your card text is updated, you can click on "Next" to save your changes and move on. Please make sure the design tab is only open in one browser window/tab at a time so that changes save properly.