It's easy to set up a Paperless Post invitation to collect a headcount for multiple guests within a single invitation, or to allow optional +1s for your event. You can either set a blanket Total Invited number for all invitations that you will be sending, or customize the number for each group that you will be inviting. The steps to do so depend on whether you're designing a Card, Flyer, or Legacy Card.
Am I designing a Card, Flyer, or Legacy Card?
Flyers have a different layout from Cards — if the invitation is split into two distinct sections with editable text on the left and an animated image on the right, it is a Flyer.
You can check the top left corner of the page to tell if your Card is a Legacy Card- any Legacy cards will show the word LEGACY next to our pigeon logo.
Card and Flyer
When setting up your invitation, you can select a Total Invited number between 1 and 10 guests. This number includes the person who receives the invitation - for example, if you wanted to invite a guest with a +1, you would need to set the count to "2 Guests."
Once you toggle on "Allow guests to bring additional guests," the number you specify as your Total Invited per Invitation will be the default number applied to all guests on your list.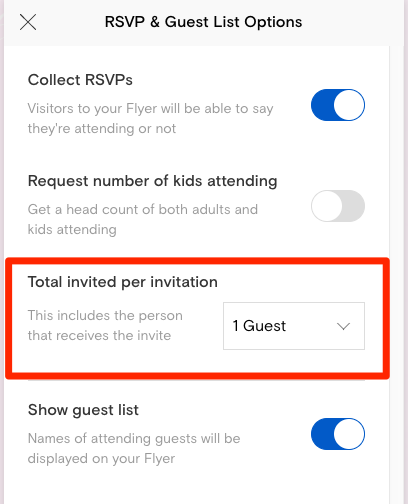 If you are sending directly through our site, you can also adjust the Total Invited for individual invitations when setting up your guest list. From the Invite Guests page, you can make any adjustments to Total Invited for each guest entry before adding them to your list and sending:
Legacy Card
You have the option to allow your guests to RSVP for up to 10 additional guests.
If you choose to set this up, when your guests reply with the total attending in their party, they will see this message that asks them to select the number of additional guests. The additional guests number excludes the recipient of the invitation.
Changing the number invited after creating your guest list
If you have access to your account from a computer, you can change the number invited per invitation after you've added recipients to your unsent list, or after you've sent your card. From your tracking page you can click each guest in your list and update the number invited individually.
At this time we don't have a way for you to update the Total Invited for your full guest list after creating your list, but reach out to us and we can help!
Setting up the number invited before creating your guest list
To allow guests to RSVP with a number to account for additional guests:
• On the Enter Details page, set a default additional guest number. You can set this number to one that applies to the majority of your guests. This setting is available below the "Event Page Settings" section by clicking the "Additional Options" menu. You can then click "Allow guests to bring additional guests" and enter the number of people you'd like each person to be able to bring.
• As you're creating your guest list, click on any guest you'd like to change the number invited. In the menu that opens, you can change the total invited number. Clicking away from the number will save it automatically.