Miss spending time with friends and family from afar? Who says you have to! Digital drinks, dinner and discussion can be enjoyed over a screen. Take advantage of Google Hangouts, Skype, FaceTime, Houseparty, or Zoom to see those faces you have been missing with a virtual gathering. All you're really missing is the invitation.
We have dozens of virtual event designs available, however, any card or Flyer design on our site can work for virtual events. Simply add a URL to your invitation. Here's how:
To display a clickable link below your card invitation (while collecting RSVPs through Paperless Post):
1. After adding your card text, navigate to the Enter Details page of your card.
2. Click the "Virtual location" checkbox and add your URL.
3. Add the "Text to Appear on Link". For example, "Join Here".
4. Click the "Save" button.
5. Once you save and send your card, your guests will be able to provide their RSVP through Paperless Post but can still access any links to other sites.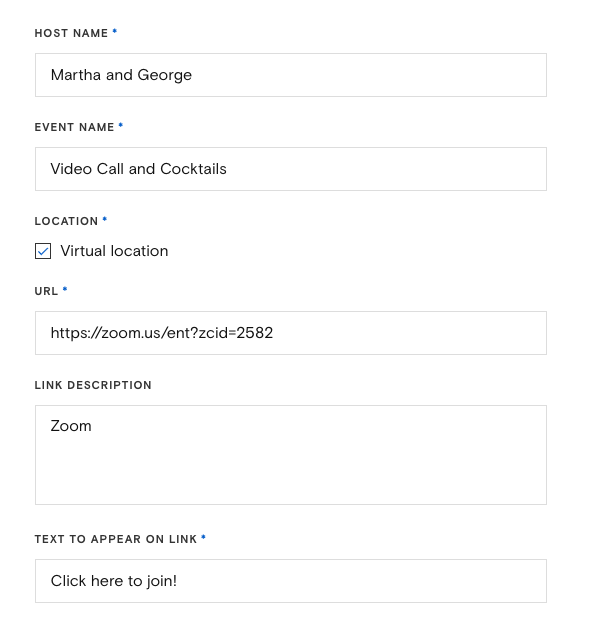 If you're hosting a virtual event, and would like to add a URL instead of a physical location, you can click "Virtual Location" in the Event Details to add a live link for guests. You can also add a link description along with the direct link to display on the page:
Flyers can be shared through your own email, SMS, or social media.
Paperless Post exists to connect people in a more meaningful way. As COVID-19 impacts how people gather around the world, we're committed to doing all we can to help personal connection. While it's the most important thing we can do right now, social distancing is hard. But that doesn't mean we have to feel apart. Reach out to us if we can help you send a greeting card to let someone know you're thinking about them, or an invite for your virtual hangout.