You can change your V2 Card's page colors and page style by selecting the Page style from the left menu on the Create page:
All V2 Cards have free page color options and additional premium page color options. Similarly, all V2 Cards have free page styles and additional premium page styles. Premium Styles and Premium Colors each cost 1 Coin per recipient, and Premium design options are indicated with a Coin icon from the selections on the left side menu.
Custom Color Options
If you want to explore colors outside of the provided color collection, you can choose the Custom Color tool from your Create page. The Custom Color tool is a premium design option that costs 2 Coins per recipient.
Once the menu opens, you can click anywhere within the color spectrum, or you can enter a desired Hex value. Or, can you choose from a selection of suggested options based on colors pulled from your design: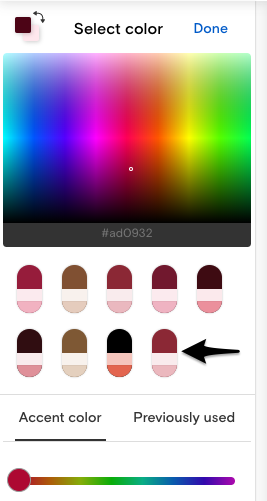 You can also adjust the accent color to alter the color of the RSVP button on your card:
If you like the colors you have selected but want to see what the inverse option might look like, you can swap the colors here: