How can I tell if I am creating a card on the new V2 Card platform?
Look for the V2 icon in the lower left corner of your page, as seen here. If you don't see V2, you can refer to our Legacy Card Sending section here.
Sending Your V2 Card
If you wish to send your card directly through Paperless Post via email or text message, you will need to navigate to your Add Guests page. Once you finish editing card text, entering event details, RSVP settings, and editing page style, you can click Add Guests from your Create page to move forward and begin adding guests. If you are returning to your already-created card, you can select Add Guests from your Manage Tracking page.


Pasting a List
If you're working from our desktop site, you will have the option to paste all of your guest emails at once instead of manually adding one-by-one. From the Invite Guests page, click the Add a List option. Your recipient list must include a name and email address and be formatted like one of the following examples:
Name <name@email.com>
Name name@email.com
The list can be separated either by line breaks or commas. If adding a list separated by line breaks, it should look like this: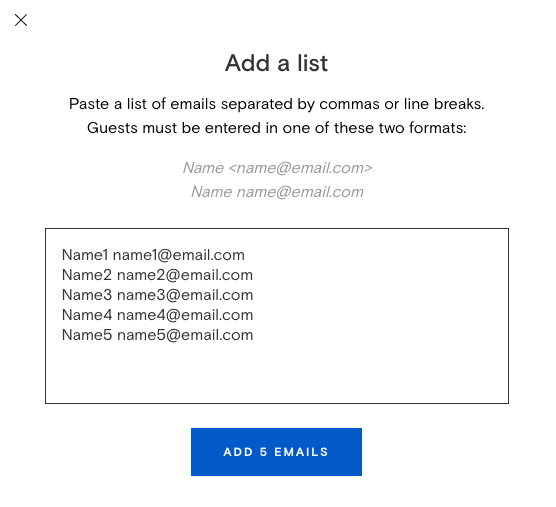 If adding a list separated by commas, it should look like this:
Please note that only email addresses can be pasted as a list at this time - SMS recipients must be added one at a time or imported from previous mailing lists.

If you run into any issues pasting, refer to these troubleshooting steps.
Using your Paperless Post Contacts
If you already have contacts saved within your Paperless Post address book, or you have a list from a past mailing and wish to add these contacts to your invite, you can click Contacts from your Invite Guests page. You can read more about how to use your Paperless Post Address Book for V2 Cards and Flyer here.
SMS
If you prefer to send your invite directly through our site via SMS rather than email, SMS contacts can be added one at a time from your Invite Guests page from our desktop site or mobile web. You can also import multiple SMS guests that were used on past mailing lists by clicking Contacts from your Invite Guests page.
If you're working from the app, you can only add phone numbers that are already saved to your phone contacts or were used on a past mailing list.
Please note that we are only able to deliver to mobile phone numbers in US States and Canadian provinces at this time. If you are sending multiple invites or messages to the same number, we recommend waiting at least one minute in between each send to prevent your message from being blocked due to carrier restrictions.