Applying a promo code to your purchase
You'll see the option to add a promo when you click "Checkout" from your Cart.  Type your code into the field and click "apply" to have the discount reflected in your order total. 
If you have more than one code saved in your account, instead of a field you will see a dropdown menu that says "Choose a promo code."
Please note that you cannot combine or stack promo codes, and they can only be used one at a time.
Discounts are not valid on past purchases and are not redeemable for in-app purchases on Paperless Post iPad® and iPhone® apps.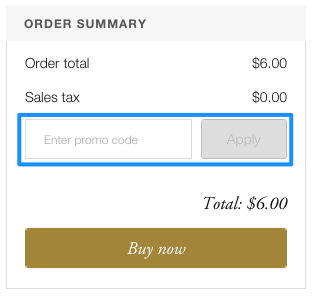 What if I forgot to use my promo code?
If you've checked out and forgot to use your promo code, or your promo code didn't apply, contact us for help!  Be sure to include your order number and the code you wanted to use so that we can apply it to your order if it is eligible. 
Checking out with venue partner codes
Visit our Buy Coins page to add one of our coin packages to your cart, then check out with your promo code!