There are lots of reasons you may wish to add a link to your Card or Flyer - you could be hosting a virtual event with a virtual location, or you may be selling tickets on a venue's website instead of collecting RSVPs through Paperless Post. Perhaps you're hoping to link to a featured guest's social media page. Our toolset offers many options for you to provide links offsite, depending on whether you are designing a V1 Card, V2 Card, or Flyer.
Am I designing a Legacy (V1) Card, V2 Card, or Flyer?
Flyers have a different layout from cards — if the invitation is split into two distinct sections with editable text on the left and an animated image on the right, it is a Flyer.
If you are designing a Card, look for the V2 icon in the lower left corner of your page, as seen here. If you don't see V2, you can refer to our Legacy Card Pricing FAQ here.
V2 Card and Flyer
V2 CARD/FLYER: Adding URLs to a description Block
If you wish to add a URL to a third party site in addition to your event details, you can add these using additional Blocks. Here's how:
1. From the left side menu, select Add Blocks: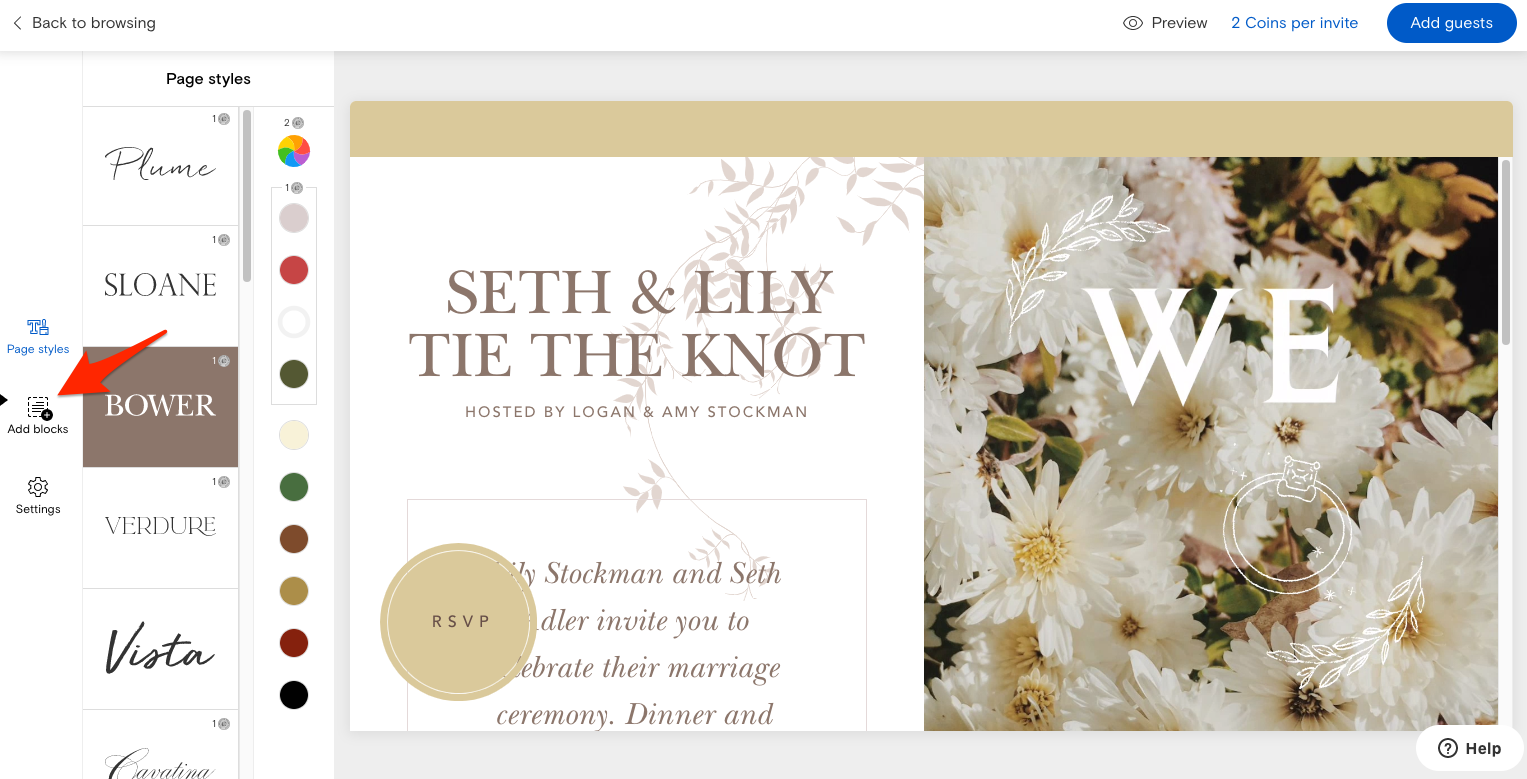 2. From the Blocks menu, select Details.
3. You can then enter text in the body of the block, highlight the text text you would like to hyperlink, then click the link button. Enter your website URL, click Apply, then click Save:
Once you save and send your mailing, this will display as a clickable hyperlink for your guests.
V2 CARD/FLYER: Virtual locations
If you're hosting a virtual event, and would like to add a URL instead of a physical location, you can click on the event title, host, date, or location from your Create page to open the Event Details box. From the box that opens, click "Virtual Location" in the Event Details to be able to add a live link for guests. You can add a link description along with the direct link to display on the page:


V1 Card
V1 CARD: Link to offsite RSVP collection
1. On the Customize page, use the arrow to the right of the card image to bring up the Reply Card.
2. In the menu on the left, click "Reply Card Option".
3. Choose "Card with website link" and click "Next".
4. On the Enter Details page, enter the URL, and the text to appear on the button.
5. Once you save and send your card, this will display as a clickable Hyperlink for your guests:

V1 CARD: Add a virtual location
To display a clickable link below your card invitation (while collecting RSVPs through Paperless Post):
1. After adding your card text, navigate to the Enter Details page of your card.
2. Click the "Virtual location" checkbox and add your URL.
3. Add the "Text to Appear on Link". For example, "Join Here".
4. Click the "Save" button.
5. Once you save and send your card, your guests will be able to provide their RSVP through Paperless Post but can still access any links to other sites.