Creating a Group Greeting Card on the Legacy Platform
You can use any of our cards to collect group signatures, pictures, and messages for a single recipient to send appreciation as an online group card. Please reach out to us if we can help with the group ecard set-up below.
Here some design categories you can use:
After you've selected the design you want to use, we recommend changing the card type to a 'Save the Date'. This setting will allow you to use the public comment wall to collect messages from everyone.


How to Send a Group eCard
Once you have finalized your design and added a comment wall, just reach out to our Support Team to let us know. We can supply you with a (free) public link to your online group greeting card that you can text or email to everyone in advance of sending to your special recipient.
Virtual Card Signing
Before signing the comment wall, each recipient must save their name and email address. They can skip the field that requests that they send a note to the host. Only the name and email must be filled out and saved in order to access the comment wall:
After recipients have saved their name and email address underneath the virtual card to sign, they can scroll down to sign the comment wall.
Once everyone has added their messages, you can send the Card to the intended recipient, and they will see all the notes below the card on the Event page.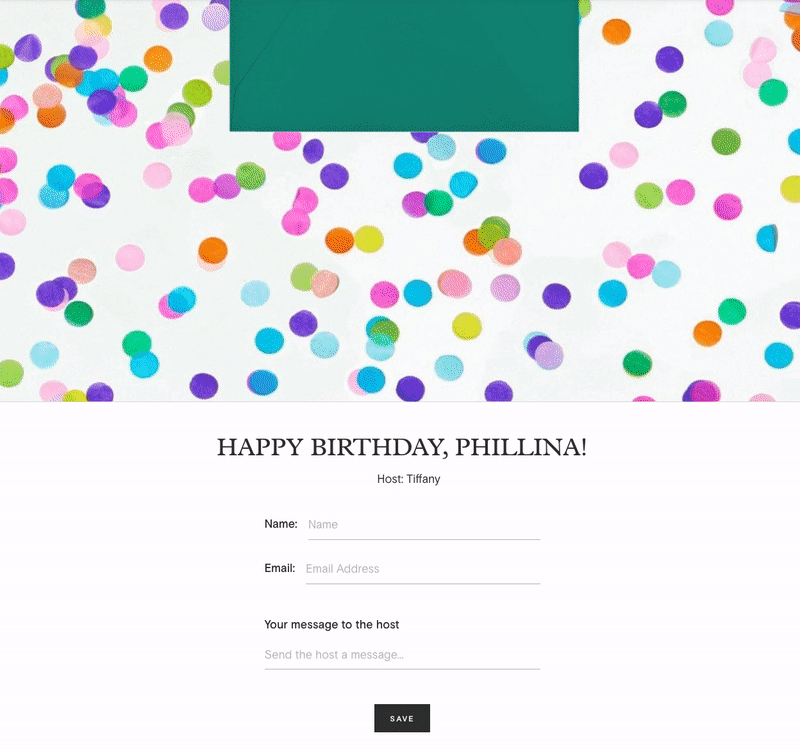 Notice a few changes while creating your event? Read more about our ongoing site changes here.